Got an email this morning with pictures alledging that there is at least one Backyard Pepsi Factory. Checked snopes.com and found out there's no record of this yet so I submitted a request toinvestigate it. My cause is simple: Is this true or an elaborate hoax? People need to know.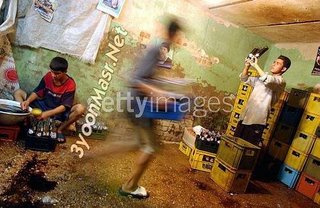 Implications:

1. Child labor issue.
2. Bad news for the Pepsi-Cola company.
3. It's a crime that will pose health hazzards.
Pictures were captioned as : Great boy picking the colors to prepare the PEPSI, Men at work washing the bottles, boys placing the bottles in the tray, Boy filling the PEPSI & checking for the air bubles, Boy filling the Gas in the bottles, Boy searching for the right caps, Great man at capping the bottle, and Quality checking and Success***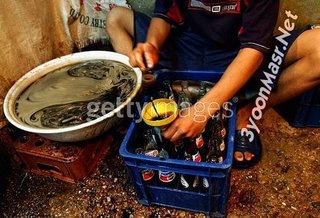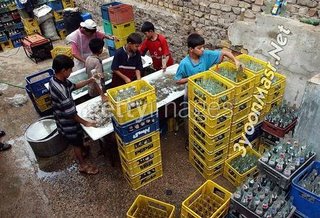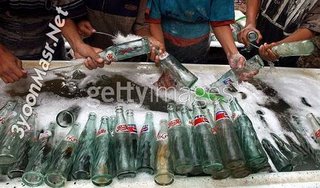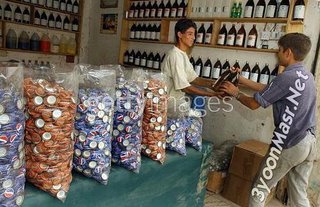 I checked the domain name splashed across the pictures using whois information.
If this is a marketing campaign for their website, I wonder what legal implications there are. This is what I found:

Domain Name: 3YOONMASR.NET is registered under the name Marcus Burmood using GO DADDY SOFTWARE, INC., as the registrar. Name and nameservers are active, but may not be available online due to bandwidth restrictions from it's hosting company, (or is it just parked at secureservet.net?)

Name's been 13-sep-2004 and current and paid for until 13-sep-2006. This Mr. Marcus Burmood lives in 2040 SE Debord Corvallis, OR 97333 United States, Phone 5417549030
. His email is hayhodown@nicemarmot.org, so I'm betting he's getting lots of email there already. If he's the one who exposed this, I bet he's getting famous by now and deserves a congratulatory note for the exposé. HOWEVER, if this is a hoax and was started merely as a marketing campaign that his company launched, somebody better email this guy and tell him something he won't forget.

I'll post back as soon as snopes replies.
Labels: Business
posted by Jdavies @ 3/24/2006,


9 Comments:
---
The Author
J.Davies
Jdavies lives in Quezon City, Philippines and has been blogging since 2002. A brand manager in a leading technology company and a freelance new media/web strategy consultant, he has refocused his blogging from personal, political & sociological observations, to marketing-related efforts and Internet trends that are relevant to his career and branding advocacies.
---
About This Blog
This blog is a depot of thoughts and observations on marketing trends which remain personally relevant to the Author as far as his marketing career is concerned. Having evolved from the personal blog of Jdavies, much of the earlier work contained herein are laced with personal speculation, political views, and similar advocacies. These posts are being kept for posterity's sake and for no other reason. No effort is being made to claim that the author will not contradict himself from his previous positions or that such advocacies are absolute.
Contact
Request access to my Linked-in Profile